By now, almost everyone knows that it's simply a matter of common sense to keep important documents backed up. After all, computers can fail without any warning, and attacks by hackers and malicious software can also render your precious data impossible to recover. However, in spite of the risks, many people aren't in the habit of regularly backing up their data, and they often take it for granted. When you consider the fact that a typical family computer contains thousands of treasured photos, important documents for work or school and increasingly large movie and music collections, it's easier to see just how much you stand to lose if your computer fails. For business users, this is even more important, since a severe case of data loss can lead to your company closing its doors for good or even attracting legal action for failing to meet industry compliance regulations.
For short circuits to malware, computers and storage devices can go wrong without warning, which is why you need a proactive system that allows you to backup and restore your data quickly and easily. What many people do is copy over important documents to a flash drive or upload them to a cloud storage facility. However, backing up files and folders individually and manually in this manner has one serious flaw – it's subject to human error. In other words, it's easy to forget about something important and, before you know it, you realize that critical business document or treasured photo album is gone for good. That's why you're better off creating a complete, byte-by-byte image of the entire storage device. [email protected] Disk Image does precisely that, by copying every byte of data on the disk into a single file that you can move around or even upload to the cloud.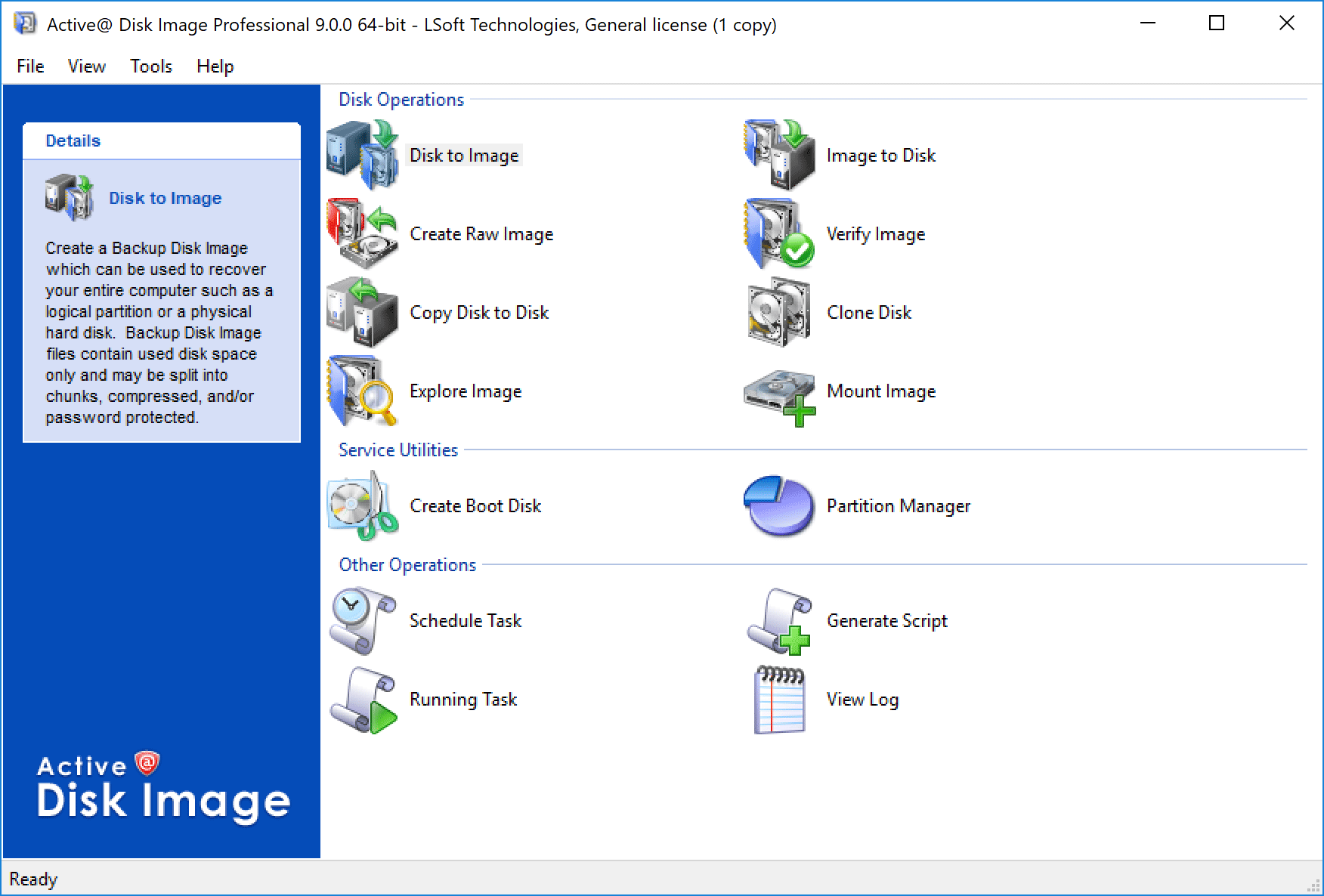 Restore or Clone Your Computer
When people think about backing up data, they often don't think about the equally important restoration process. For those who use their computers for business, the amount of time and effort it takes to recover data can be just as important as what's backed up and what isn't. One of the great things about creating a complete image of a storage device is that it can simply be extracted onto any other formatted storage device, provided it offers the necessary capacity. Not only does this make restoring your PC easier – it's also great if you're upgrading to a new computer or adding a new one to your network. Since the disk image contains a copy of your entire operating system, along with all your applications and documents, there's no need to reinstall this things from scratch. Especially if you have a lot of programs on your device, this can save you many hours.
What's new in Version 9.1.2?
The latest version adds support for raw images in Virtual Disk and support for the ReFS file system in Explorer. The user interface has been tweaked as well, and there have been a few minor bug fixes. The Professional version now includes the latest editions of [email protected] Boot Disk and [email protected] Boot Disk Creator. Get started today at http://www.disk-image.com.