Astra R-Nesting - Rectangular nesting software
By:
technos
| Total views:
145
| Word Count:
788
| Date: Tue, 6 Oct 2009 - 3:59 PM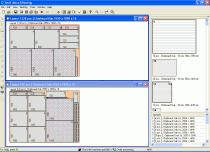 (
www.techno-sys.com
) Astra R-Nesting is sheet
nesting software
(
www.techno-sys.com
) . The software can be used for optimized nesting and cutting particle board, metal, glass and plastics. With remarkable ease and simplicity, the user can create the order and produce the cutting layouts of the best quality. Intuitive tools of the Astra R-Nesting software enable you to:
Quickly create a nesting order.
Perform automatic nesting.
Quickly edit layouts with great precision.
Calculate, save and use offcuts.
View and print out the necessary detailed reports.
Print labels for parts, sheets and offcuts.
Calculate the cost of the order and print the invoice.
Output NC data for CNC cutting machine: SCM, HOLZMA PTX, Selco XML, CPOUT, Altendorf F45 Elmo etc.
Quick creation of nesting orders

(
www.techno-sys.com
) While creating a new nesting order, you can enter parts manually or import data from another CAD software. An important peculiarity of entering input data is the ability to use an alphanumeric part number that corresponds to its real representation in the design documentation. The standard assemblies library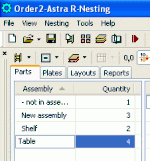 (
www.techno-sys.com
) The Astra R-Nesting software enables you to describe a library of standard assemblies (BOM) and use them in the future for other orders. You can reduce the data entry times for nesting orders by ten folds - just run a couple of commands and the order is ready. You can specify the edges to be banded on each part. The software supports an unlimited number of edge banding materials. The entered information is used for calculating the amount and cost of banding materials needed per nesting order. Optimal nesting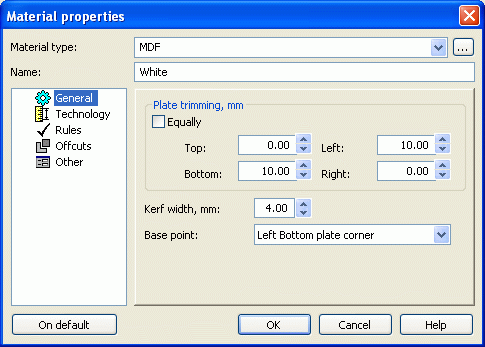 (
www.techno-sys.com
) Automatic nesting is performed with the technological and organizational options of the production capacities factored in. These options allow you to set: kerf width, edge trimming options, end-to-end cutting options, nesting type, minimal distance between saws and more. A unique set of configurable options is the distinctive feature of Astra R-Nesting software. The manual mode of cutting layout editing provides a number of methods for fast and precise layout adjustment: placing a group of parts into the cutting width, alignment to the common base, snapping to limit stops and so on. You can also zoom in and out of the nesting windows and undo your actions, which allows you to restore the previous state of the layout. Full account of reusable offcuts Calculation of offcuts is performed both automatically and in the dialog mode. Depending on the parameters set by the user, offcuts are automatically used in new orders. You can use the list of offcuts to add, remove or filter them by any characteristic: size, material type, fiber type. Complete order reports A full set of technological reports is created for each nesting order - a draft and a specification containing the necessary information for creating parts and workflow analysis. Cutting layouts can be printed with any user-defined scale and with any page orientation. You can also print several layouts on a single page. The following information is also created: nesting order specification, material status report, edge banding specification, invoice for materials and work on the order, part labels. Integration with CAD/CAM/ERP systems Integration with other CAD/CAM/ERP systems is one of the key principles of Astra R-Nesting software. The data from your CAD/CAM/ERP system can be loaded to Astra R-Nesting software, which will return the results of calculations. The
nesting software
(
www.techno-sys.com
) can be run from command line, import data automatically, generate the cutting layout of the order, calculate the offcuts and export the results. The user can run the
nesting software
(
www.techno-sys.com
) in the Invisible mode without displaying the main window. This feature allows the user to run Astra R-Nesting software as a service directly from an external CAD/CAM/ERP system. Link to CNC machines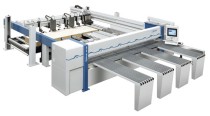 Astra R-Nesting software output NC data for CNC cutting machine formats, such as SCM, HOLZMA PTX, Selco XML, Mayer, CPOUT, Giben, Altendorf F45 etc.
About the Author
Dmitro Udovitsky, Ph.D. Director of the company Technos nesting software (www.techno-sys.com)